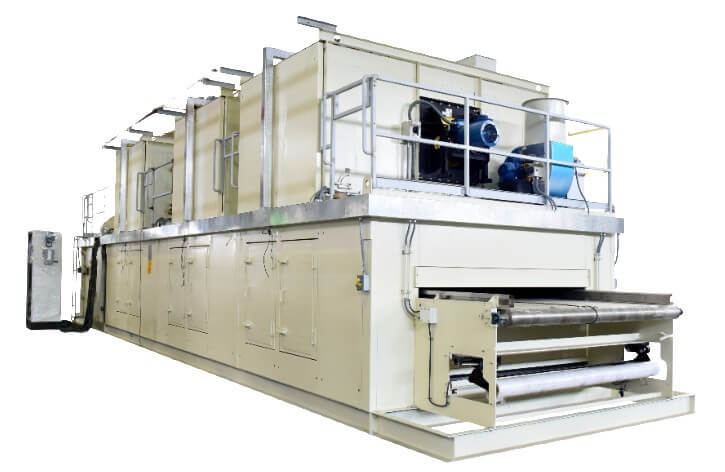 Internal Bake Oven
Designed for uniform air flow and temperature distribution, the ARC Pacific Internal Bake Oven cures both the interior and exterior of the can efficiently while minimizing gas consumption.
Key Benefits
Designed to raise cans to the required temperature efficiently via three chambers, the ARC Pacific Internal Bake Oven (IBO) cures both aluminum and steel cans and bottles. The IBO is the final baking stage cans undergo to cure both the internal spray and the ink and varnish coating from the Decorator. With high efficiency 6-inch insulated walls, 2-inch safety cool walls and the on-demand exhaust air flow the oven is able to retain heat efficiently and minimize gas consumption.
The IBO is equipped with VFDs to help optimize air flow control which lowers energy usage. Able to rebalance air flow based on different production conditions, the Oven minimizes gas consumption. Displaying on the HMI, the exhaust air volume is constantly monitored via the exhaust orifice.
The Oven is equipped with various features that support safe operations and maintenance. The supply duct is equipped with pressure sensors to maintain uniform air flow under different production conditions. The entrance hood and exit exhaust hood captures escaped heated air helping to reduce spillage into the plant. Height requirements for can size changes can be quickly and efficiently achieved by the automatic nozzle height adjustment which is controlled via the HMI. The Oven is fitted with side walkways, stairs and handrails which allow for easier and safer maintenance to the heater top box. The gas flow meter and regulator measures gas consumption and regulates the burner flames to help ensure efficient process control.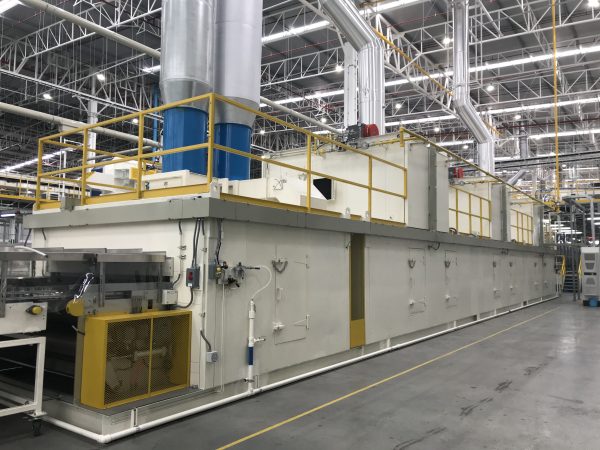 Related Products
The ARC Dry-off Oven is designed for high efficiency with VFD fans, dynamic oven balance based on production conditions and proprietary insulation technology.

Designed to maximize ease of operation, the ARC Pacific Pin Oven features high accessibility, temperature uniformity, and minimized gas consumption.